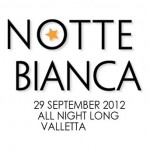 Notte Bianca is an annual all-night cultural initiative of various countries around the world and Malta is no exception.
Notte Bianca is now in its 6th fantastic year, and continues to promise an unforgettable evening of art, culture and much more.
During Notte Bianca, Valletta is transformed into a city-wide festive gathering, including music, dance, film and theatre performances and providing space for both local and international artists! And of course, the Glow Company will be there! Look out for us!
For more information, click here!