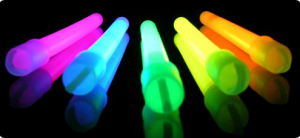 Hello!
We are The Glow Company – Malta!
Your one stop online shop for glow in the dark and light emitting products!
We currently stock Glow Sticks, Glow Bracelets and Tri-Coloured Glow Necklaces as well as many other specialised light emitting items. We also can rent out lighting and supply you with UV coatings and bright devices that will make sure you stand out and make a difference! Even in the darkest conditions!
Check out our full range of products or contact us to discuss your party, club event or wedding reception. If we haven't got it, we'll get it in!! Whether it's one Glowstick or a 1,000, we will have a price that suits you!
For the more corporate minded or the image conscious, most of our high intensity glow products can be branded to carry your message or logo! Hand out a bright idea with your name on it!  Time of course is required for these demands, so plan ahead!
We also distribute glow products at Festa's, Beach Parties, Club Nights and many types of other events all over Malta and Gozo. In fact just about anywhere a distinctive light might make all the difference. Look out for us!
Stand out, particularly at night. Contact us!
All our glowing materials are EU certified, non-toxic and are EN-71 approved!